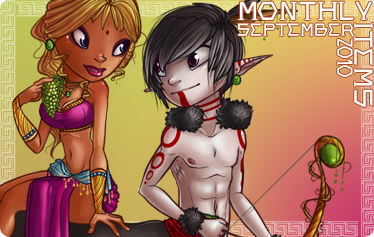 Monthly ItemsEdit
Monthly Items, also known as MIs, are newly released items every 1st of the month, that can be bought in the Ancient Temple for two platinums. New ones come out every month while the previous ones go away. MIs are often sold on the Marketplace forum.
Past MIs
2010
October 2010 - Fall and Diving Set
September 2010 - Centaur and Greek Grapes
August 2010 - Life and Death and Pirate
July 2010 - Jazz Spirits and Star Bunny
June 2010- Royal Treasures and Sari Wedding
May 2010- Cherry Blossom and Royal Armor
April 2010- Space Time and Infernal Attire
March 2010- Camoflauge and Chinese New Year
February 2010- Crimson Ninja and Steampunk Eagle
January 2010- Capricorn and Crimson Moon
2009
2008
2007
Ad blocker interference detected!
Wikia is a free-to-use site that makes money from advertising. We have a modified experience for viewers using ad blockers

Wikia is not accessible if you've made further modifications. Remove the custom ad blocker rule(s) and the page will load as expected.