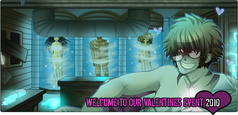 On Valentine's Day (February 14, 2010), a new event forum was opened to the public. For the first time in Roliana's event history, a double currency was used: Pink Hearts (
) and Crazy Green Hearts (

). To earn hearts, an user needed to post to get the green hearts and click on the banners under the users' avatars to get the pink hearts. These hearts could be redeemed for the new prizes in their respective shops, Frederick's Lovely Shop and Dr. Franz's Emporium. The event ran from February 14 to February 28, ending in two weeks total.
Ad blocker interference detected!
Wikia is a free-to-use site that makes money from advertising. We have a modified experience for viewers using ad blockers

Wikia is not accessible if you've made further modifications. Remove the custom ad blocker rule(s) and the page will load as expected.